Support the activities of the Promotion and Research Organization for Art by Artists with Disabilities (NPO)
October 7, 2022
Support the activities of the Promotion and Research Organization for Art by Artists with Disabilities (NPO)
The NISSHA FOUNDATION supports the activities of the Promotion and Research Organization for Art by Artists with Disabilities (commonly known as the TENSAI Art Kyoto), which promotes and supports the creative activities of artists with disabilities. On October 7, 2022, a signing ceremony for the support agreement was held, with the attendance of Kazuyoshi Kadoya, Chairman of the TENSAI Art Kyoto, and Junya Suzuki, Chairman of NISSHA FOUNDATION, and signed the agreement.
The TENSAI Art Kyoto has set the followings as its activity objectives; "Constantly secure a place where people with an interest and ability in expression and production can devote themselves to their activities in a relaxed manner. Then, exhibit the works, etc., and conduct evaluation research and design utilization research on their creative process and works." And "furthermore, through the disclosure of these results, raise social awareness of the creativity and artistry of people with disabilities, and contribute to the development of the world's arts."
The NISSHA FOUNDATION, which aims to contribute to the continuation, promotion, improvement and further development of culture and art, agrees with their purpose and supports the activities. Through the partnership between the two organizations based in Kyoto, we would like to contribute to the realization of a society where everyone can fully demonstrate their abilities.
Scene at the ceremony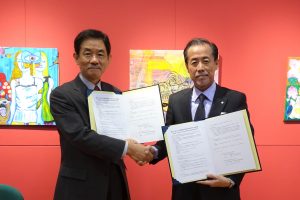 Left: Mr. Kazuyoshi Kadoya, Chirmand of the TENSAI Art Kyoto
Right: Mr. Junya Suzuki, Chairman of the board, NISSHA FOUNDATION
Chairman Suzuki interacting with artists in the atelier of the TENSAI art Kyoto