Support the activities of the drummer "YOYOKA"
September 7, 2022
Support the activities of the drummer "YOYOKA"
The NISSHA FOUNDATION is supporting YOYOKA (Ms. Yoyoka Soma), who is active as a genius girl drummer.
YOYOKA was born in October 2009 and is 12 years old. She has performed with some of the world's most famous musicians, appeared in shows, and set the youngest record in various competitions. Her global success has attracted a lot of attention and expectations.

She started playing drums at the age of 1 and started playing live at the age of 4. She formed her family band "Kaneai Yoyoka" at age 5 and released her first CD at age 6 while she was in kindergarten. In 2018, she became the youngest (8 years old) weekly champion in the under 18 division of the global female drummer contest "Hit Like A Girl". In April 2019, she was the youngest ever to be selected as one of Newsweek Japan's "100 Japanese People Respected by the World". In 2020, she was selected as the youngest drummer in the world's top 500 drummers by the global drum-related site "Drummer World".

She moved to the United States with her family in September of this year. She is also expected to make her leap to the global stage.
*Message from YOYOKA*
My big dream is to change various problems such as poverty and discrimination in the world with my music. For that reason, I would like to hone my drum and music skills and senses through sessions and music writing with many musicians and artists in America, where talented people from all over the world gather. Furthermore, I think that English is the common language in the world today, so I would like to learn practical English so that I can convey my thoughts to many people.

I am honored to have the support of the NISSHA FOUNDATION! Thank you very much.
I hope that this challenge of mine will become a path for the next generation of talented children born in Japan to challenge the world.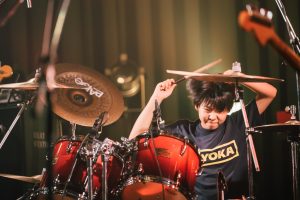 YOYOKA Official Web